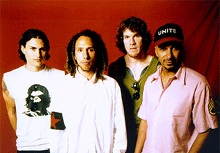 I need to get into the habbit of blogging more often, especially on vacation.
On this 2-week trip back to Minnesota, a Rage Against the Machine concert in Wisconsin happened to fall right in the middle of my trip, so, well, I'M GOING.
I'm at Joe's house in Duluth right now, and we're taking off in a minute. Hopefully there will be photos here before the weekend is up.
"Return the power to the have-nots!"