Aka "Nooooooooooooooooooooooooo!!!"
Finally was able to login to the Up-To-Date order tracking system tonight. And to my horror, this is what I saw: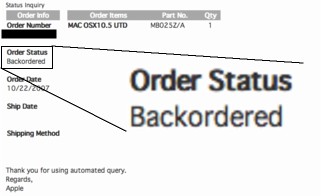 Anyways, I won't hold my breath. I know I have a license for the software, so I should be able to acquire a copy from work by the weekend. Thanks Apple for not using product activation.
A bit of backstory: I'm part of the Up-to-date program because I picked up a "new" previous generation 24″ iMac at the beginning of the month. The thing is freaking huge, biggest screen in our apartment.