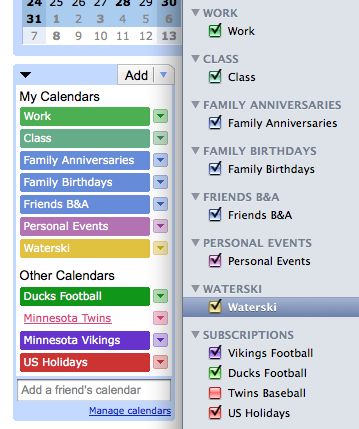 That's what Toni asked me about 2hrs ago. Followed by:
Me: getting my calendars set up to sync through google
Toni: sounds exciting there
Me: 🙂 you have no idea
Toni: lol
Toni: you are an odd one
Anyways this is fairly brilliant. Google Calendar is the brains of the operation, where the data is stored and whatnot. Sure I exported most of my calendars straight from iCal, but then I set up the calendars to utilize Google Calendar's new calDAV service (Google's instructions). So now I can edit events on my iMac at home, the iMac at work, even on my iPod Touch, and it'll sync up to the gCloud, and back down to my computers/iPod, and essentially be the same everywhere.
Caveat here is regarding the iPod Touch. I only see the "live" calendars when using Google's mobile interface, the Apple Calendar interface needs to get plugged in at home to sync. Same with posting, it if i post to Apple Calendar, nothing goes live until I plug & sync at home. And obviously Google Calendar needs to be within earshot of wi-fi access.
This is all acceptable though, wi-fi seems ubiquitous enough for when I'm hopping between computers, and when I'm not (say, when I visit the family cabin in Minnesota), the iPod Touch will be the only device I have for keeping schedules, so it'll "just work".
The one thing I don't understand, is why do each of my Google Calendars need seperate CalDAV accounts in iCal? This is makes it a pain the ass to set up, but after the fact is mainly cosmetic (see image above, and click to enlarge).
Hmm.. ramblomatic blogger? I'm going to bed.