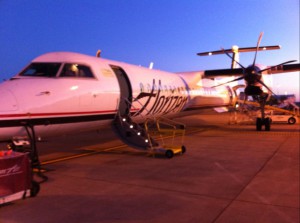 Taking advantage of free inflight wifi provided by gogo (for smartphones only) posting using the WordPress 2.9 mobile app.
Flew down to San Jose and rode with my parents (who flew into San Francisco) to San Luis Obispo for my Aunt's wedding. I was the official photographer for the ceremony. Weather cleared up nicely for the big day, and didn't get too hot. Sunday the next day was really nice and quite warm. I got to bury some cousins in the sand, but sadly didn't get a chance to try surfing.
Sunday night we headed to the bay area and did the touristy stuff on Monday. Went and visited the Full House house in San Francisco, My old college roommate who works at google gave me and my dad an abridged tour of his workplace, small software company, you may have heard of, went shopping at the Apple Company store at 1 infinite loop, and drove by Steve Jobs's old house in Los Altos. Then it was back to the San Jose airport, and here I am, blogging at 30,000 feet (not sure how high we actually are, just a guess).